Frankfurt, Germany: 27 July 2023 — QuoIntelligence, Europe's fastest-growing provider of threat intelligence, today announced a EUR 5 million Seed financing round. The transaction was led by DeepTech VC investor, eCAPITAL ENTREPRENEURIAL PARTNERS (whose portfolio includes successful European cybersecurity startups such as VMRay, Tenzir, and Exein) with participation from private investors. The investment is based on the company's highly differentiated threat intelligence offering, which a growing number of corporates rely on.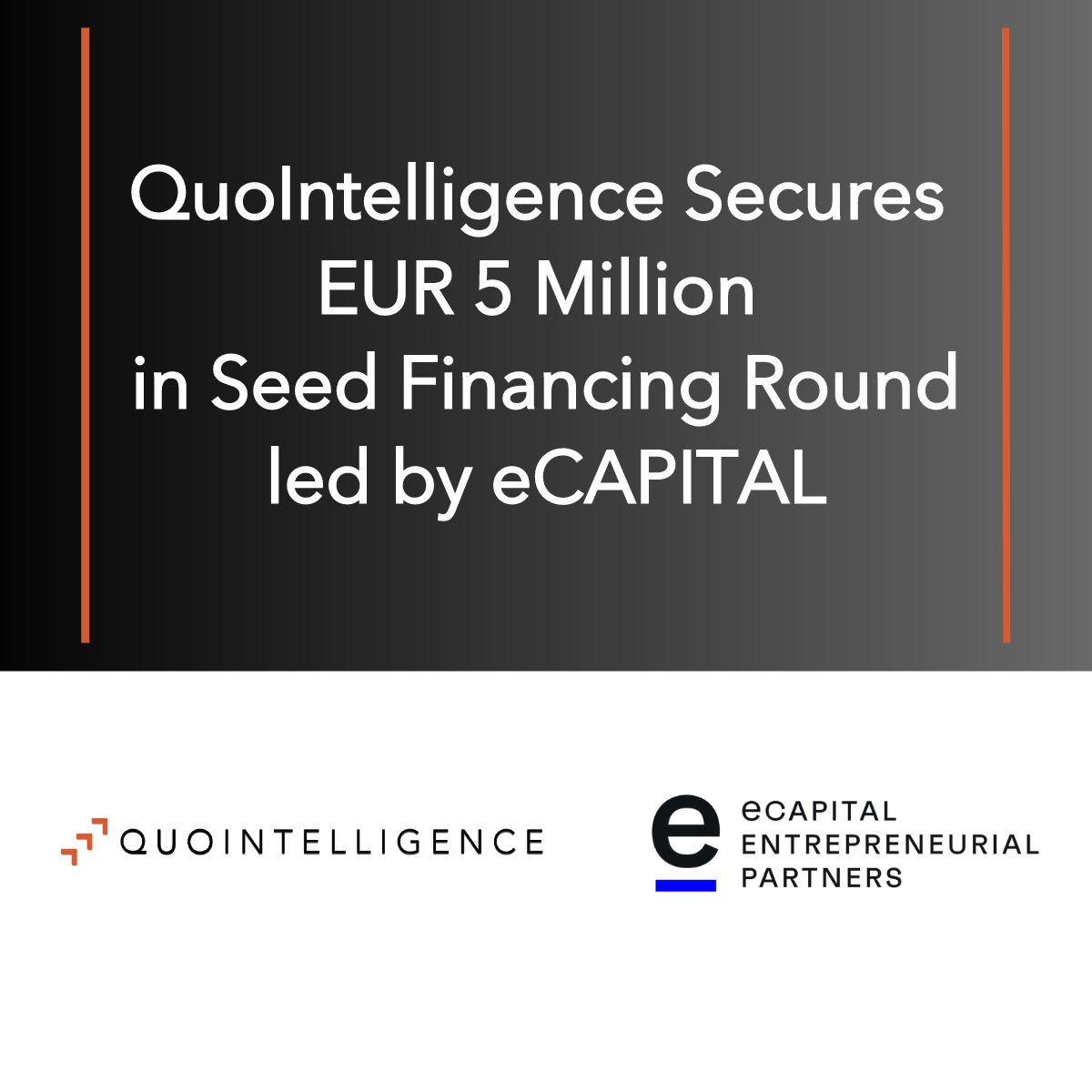 The investment will be used to expand the QuoIntelligence team, enhance products and services, and significantly increase the company's market reach. QuoIntelligence has developed a unique threat intelligence service which combines AI with human expertise.
The importance of cybersecurity awareness has accelerated tremendously due to factors such as the new risk profile of remote work, and fast-changing geopolitical situations around the world. However, the maturity of organizations to cope with cyber risks varies widely. QuoIntelligence plays a significant role in educating businesses of the necessity for threat intelligence and how, as part of an overarching cybersecurity strategy, threat intelligence forms a vital part in maximizing cyber resilience and minimizing risk.
QuoIntelligence currently operates in Germany, Italy, Spain and the US, with customers located across the EU. The company is focused on expanding both its range of services and geographical reach. Customers include companies and organizations within European critical sectors like finance, government, insurance, manufacturing, semiconductor, retail, transportation and more.
Marco Riccardi, CEO and founder of QuoIntelligence:
"As a growing number of organizations wake up to threat intelligence's vital role in their business, this funding allows us to boost our threat intelligence offering, recruit top talent, and deliver unrivaled value to our customers. By continuing to seamlessly integrate technology and talent, we continue our mission to be Europe's top threat intelligence partner."
Dirk Seewald, Partner, eCAPITAL:
"Threat Intelligence is a wide application domain. QuoIntelligence is uniquely positioned as a European vendor with a highly automated and differentiated service, that reaches not only large corporates, but opens up the huge mid-market. We are very enthusiastic about the prospects for the company and excited to work with the team."
Ari Bizimis, founding investor of QuoIntelligence:
"As the founding investor of QuoIntelligence, we welcome eCAPITAL as the top German cybersecurity VC firm to be part of this success story. We have immense confidence that eCAPITAL's extensive experience in scaling cybersecurity companies will play a pivotal role in fostering QuoIntelligence's significant growth. With this partnership, we foresee QuoIntelligence's ascension as the preeminent threat intelligence provider across Europe in the coming years."
About QuoIntelligence
We enable organizations to enjoy the highest levels of cybersecurity through the delivery of timely threat intelligence tailored precisely to their needs.
We provide services across three vital areas:
Our highly experienced team of intelligence experts combines with our bespoke AI systems to produce our unique service. In a world where cybersecurity is necessarily about scalable technology, we include the human touch that makes the difference.
For more information, please visit www.quointelligence.eu
About eCAPITAL
Founded in 1999, eCAPITAL is an entrepreneur-led venture capital investor focusing on early and growth-stage deep-tech companies with a positive impact on society. eCAPITAL is based in Germany and invests in the areas of Sustainability, Enterprise Software, Cybersecurity, IoT and New Materials with its own funds totaling over €340 million. In addition to financial resources, eCAPITAL offers its portfolio companies strategic support and access to an international network of entrepreneurs, scientists, investors, and founders and was lead investor in several deep-tech companies such as sonnen, Novaled or Jedox, which were sold very successfully to international corporates or investors.
To learn more about eCAPITAL, please visit www.ecapital.vc or follow eCAPITAL on LinkedIn.