Founded in February 2020, QuoIntelligence has an established presence in the EU and US markets.  We are a threat intelligence partner committed to informing decision-makers of current and prospected cyber and geopolitical threats by providing Finished Intelligence, tailor-made for your organization. We use the term Finished Intelligence because we are not another data or information feed provider.
Our multi-disciplinary and multi-cultural team provides full contextual analyses to produce Intelligence and better enable decision-makers with prioritization and mitigation. By prioritizing customer requirements, we ensure our products are customer-centric, close real security gaps, support risk management, facilitate early detection, answer regulators, and more.
Headquartered in the geographic center of the European Union, Frankfurt am Main, Germany, we are successfully integrated and servicing several verticals across the region. Also Incorporated in the US, we are supporting international and regional organizations, with remote analysts located on both coasts. Likewise, this geographical footprint enables us to deliver a 'Follow the Sun' global workflow.
Since our early days, we are trusted by our clients to consistently deliver cybersecurity solutions, tailored to their environment.
Being both a member and leader in the information sharing community is both a powerful and volatile position. When organizations entrust not only their budget, but responsive actions in our company and the information we provide, it is essential to adhere to a strict standard and embody core values understood by every member on our team. These core values defined below are rooted in who we are and feed into our day-to-day reality as a pivotal member in the information sharing community. It is because of these values that we continue to focus on the mission and represent the community we serve.

Discipline
First and foremost, we understand that security is a very serious matter. As such, our analysts rely on scientific processes for all our analysis to ensure the integrity of the finished intelligence we provide to the customer. As individuals and as a team we represent professionalism in everything we do, and we focus on delivering actionable intelligence efficiently.

Passion
Our shared passion drives us to provide a high standard of excellence to which we continuously strive for each day. This passion fuels us to be visionaries in the field in order to plan for future growth and forecast a changing threat landscape. We are committed in protecting the environment of our customers, as well as providing visibility to the information sharing community.
Dedication
To put it simply, our clients are our priority. We tailor our intelligence products around customer requirements to ensure the products are actionable, relevant, and timely. At the end of the day, our customers rely on the intelligence we provide to help protect their organization and assets. It is our duty and mission to guarantee our products are used across the enterprise. 
Our expertise is driven by our people
We come from diverse backgrounds:


Defense and National Security


We are a multi-cultural team with a complementary skillset: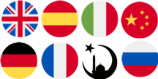 Marco Riccardi
CEO | Founder
Marco Riccardi is a passionate scientist who joined QuoScient in 2017 and created an entire business line dedicated to Threat Intelligence from scratch. In six months, the team known as QuoINT went live with some of his former colleagues (including Allison and Chaz) who joined him from Deutsche Bank, where he worked as Threat Intelligence consultant. The team grew over the next six months and entered the market in 2019 with a dedicated Threat Intelligence offering. He presented the exclusive research produced by QuoINT at several cyber security conferences worldwide.
Seven years earlier, he covered various operation roles in some of the most influential financial institutions in Germany and Spain, working as e-Crime analyst, SOC operator, Incident Responder, Digital Forensic investigator and finally as Cyber Threat Intelligence analyst. Before that, he spent four years in the IT/Information Security consultancy sector as a system and network engineer and penetration tester. He started his career by voluntarily joining the Italian military and serving in the PSYOP Army Regiment.
Marco has been both a researcher and an open-source developer. He has presented his personal research to multiple security conferences and has been recognized by IEEE in 2010 (eCrime Fighters Scholarship Award) and CLUSIT in 2008 (Best National Theses on Information Security in Italy). He contributed as a reviewer to different academic scientific journals, including COMNET, Network and Computer Application, International Journal of Information Security, and Security and Communication Network journals. Marco holds a bachelor's degree in computer security obtained at University of Milan (IT), a master's degree in Cyber Intelligence obtained at Utica College (US) and CISSP, GCIA, and GCFA certifications.
Finally, Marco is the type of suspicious person that usually tends to mistrust any information until he is sure he has performed enough source-validation on it. He also likes to encourage others to be skeptical like him — by mistrusting information (like this bio) until they find evidence proving it.
Allison Ebel
Chief Delivery Officer
Allison Ebel has worked and lived Information Security since 2011, including enterprise cybersecurity and software development security, security operations, and threat intelligence communications. Since 2018 Allison has led the threat intelligence team as the product owner of weekly threat intelligence briefings for clients across several industries including banking, manufacturing, and government. Allison oversees the day-to-day operations of our multi-disciplinary and multi-disciplined team, driving the long-term company strategy for client success, and living and breathing threat intelligence along the way.
Prior to her startup adventure, Allison worked with industry and former government colleagues in Deutsche Bank's Cyber Threat Intelligence team as an Analyst.  She supported international teams in security operations, forensics, and vulnerability management.  Her research and analysis of the latest pertinent cyber threats and threat actors provided internal stakeholders mission critical information to drive response and mitigation.
Before joining Deutsche Bank, Allison worked at the United States Department of Homeland Security (DHS) as a recruit and recipient of the U.S. CyberCorps Scholarship for Service.  She worked in the U.S. Federal Government as part of the Network Security Deployment agency, a large-scale cybersecurity implementation for the .gov networks, part of the Cybersecurity and Infrastructure Security Agency (CISA) within DHS. Her work included reviews and assessments of cyber engineering projects for security soundness prior to production delivery to all .gov agencies, assessment of test environments and analytic prototypes, as well as analysis and response to threats co-leading teams of public and private sector stakeholders.
Allison graduated from California State University San Bernardino with a bachelor's degree in business and Cybersecurity, where she worked in the Information Security Office on vulnerability management and incident response. When she is not in airports or coffee shops Allison calls Phoenix, Arizona home.
Antonio Arias Lopez
Chief Operations Officer
Antonio Arias is an HR professional who joined QuoIntelligence in March 2022 as our first Chief People Officer. He is responsible for the strategy and implementation of the people agenda that underpins the ambitious goals of the company.
Antonio had been advising the QuoIntelligence team from June 2021. However, he decided to join the good fight as the company embarked on a rapid transformation and expansion phase. He is focused on enabling our growth by recruiting 50 new colleagues in 18 months, supporting the opening of legal entities in new countries, and deploying our HR Roadmap 2023.
Prior to joining QuoIntelligence, he spent 12 years in talent acquisition going from the agency side to recruitment process outsourcing and then in-house. He has led international recruitment teams at Serco, Exyte, Tipico, NATO and MBCC Group, always driving innovation and change at a fast pace. This background in global recruitment roles, while working alongside top subject matter experts in global HR teams, made Antonio the ideal person to set up the People Team at QuoIntelligence. Even more so as it embarks on a phase of exponential growth.
Antonio is new at QuoIntelligence but no stranger to our team. In 2012, he recruited a young engineer named Marco Riccardi to work at the European Central Bank, where he also met Odín Rodríguez Lago. They stayed connected over the years and are now all reunited at QuoIntelligence.
Antonio was born and raised in Oviedo (Spain) and is a father of two girls. He has lived in Germany since 2012. He is a season ticket holder of Real Oviedo Football Club for nearly 20 years, so he may not look very happy on Monday mornings. When he's not changing diapers, he spends nights playing Call of Duty Warzone with his hometown friends.
Odín Rodríguez Lago
Chief Technology Officer
Odín Rodríguez Lago is a consummate Information Technology professional with an extensive and multidisciplinary career. He began his career as a developer and systems integrator, mainly in the open-source area. Since then, he has held multiple roles over the last seventeen years, currently as Chief Technology Officer, but also as Enterprise and Security Architect, Project Manager, Technical Lead and Consultant. He has sound experience in different IT fields like Information Systems, Cybersecurity, and Analytics and Big Data.
Before joining QuoIntelligence, he was consulting in the Benelux region as Enterprise Security Architect and Project Manager for different companies and institutions such as the European Commission, Atos Belgium,  the European Council, and the European Patent Office.
Before that he worked for six years in Germany as Technical Lead and Security Consultant for the Security and Architecture division of the European Central Bank.
Odín holds a Software Engineering degree, a Master's degree in IT Security, and a Master's degree in Analytics & Big Data. He is certified as a TOGAF Enterprise Architect practitioner by the Open Group, and as a Security Architect practitioner by the SABSA Institute.
Jörg Schauff
VP Threat Advisory
Jörg Schauff is our VP Threat Advisory, having joined QuoIntelligence in 2022. He is an internationally-experienced intelligence and cybersecurity expert with over 20 years' experience in the security environment — both civilian and military.
He brings a wealth of deep knowledge and industry weight to QuoIntelligence. In turn, our clients benefit from his expert advice across all aspects of threat intelligence.
Jörg's threat intelligence career began at the German Federal Office for the Protection of the Constitution (BfV) in the Counterintelligence Department. Supporting national and international counter espionage operations in government and industry, he focused mainly on threats from the Russia and China nexus.
As a civilian advisor to the Bundeswehr Cyber Command (KdoCIR), Jörg contributed to the German military's cyber threat intelligence program.
Jörg has held several high-profile senior roles at several Fortune 500 companies — including Vice-President for Threat Intelligence at Deutsche Bank. At Deutsche Bank he met Marco, Allison and Matthias, a fortuitous meeting that eventually directed Jörg's path to QuoIntelligence.
Prior to his start-up journey with us, Jörg managed the Strategic Threat Advisory Group of CrowdStrike in Europe and supported the development and implementation of cyber threat intelligence.
Jörg was born and raised near Köln. When not advising on threat intelligence, he substitutes the dangerous internet highway for the relatively safer tarmac ones traveling around Europe in his motorhome.
Christof Jaritz
Chief Revenue Officer
In the evolving world of online advertising Christof has made a name for himself as a standout figure known for excellence and innovation. With a career spanning more than fifteen years Christof has seamlessly combined his deep expertise with forward thinking strategies leaving a lasting impact on some of the industry's most esteemed companies, including tech giant Google and cutting edge platforms like Bitly and Branch.
Currently holding the position of Chief Revenue Officer at QuoIntelligence Christof leads revenue strategies. Ensures sustainable growth positioning himself at the forefront of the field. Throughout his journey he has achieved milestones. As the Vice President of Marketing and Growth at Bitly he brilliantly orchestrated global marketing and growth initiatives for their groundbreaking Customer Connections Platform. This resulted in a 110% growth rate leading to over USD 100 million in annual recurring revenue (ARR). Notably this achievement was accompanied by a customer base exceeding 500,000 users and an unprecedented number of clicks and scans surpassing 120 billion.
Prior to Bitlys acquisition Christof played a role as Vice President of Marketing and Sales at Egoditor where he spearheaded their commercial division. Through his efforts Egoditor became the leading provider of marketing QR Codes worldwide with over 12 million users across more than 190 countries. Additionally Christof's journey included heading EMEA Sales and Operations at Branch — a mobile marketing platform.
However it is during his time at Google that we truly see the extent of his expertise. Taking on roles he served as the International Manager for Google for Work (now GSuite) overseeing a dedicated team spread across four different locations around the world. His exceptional leadership in this position ensured that medium sized businesses (SMBs) were able to fully utilize Google's extensive range of tools paving the way for their unparalleled success in the online realm. 
As a Program Manager for Global Export Initiatives and EMEA Chief of Staff Christof played a role in expanding the online presence of advertisers in emerging markets through his visionary strategies. Heading a team proficient in multiple languages his initiatives consistently boosted exports in online advertising establishing him as the go to advocate for SMBs on an international scale.
With a postgraduate degree in business administration and fluency in German, English, and Turkish Christof possesses insights into global markets. His dedication to fostering performing teams has led him to successfully manage large groups across various global locations. Beyond his career, Christof also holds certification as an Advanced Open Water Diver from PADI — a testament to his adventurous spirit.
In conclusion Christof is more than a leader; he is a visionary who continuously pushes boundaries and sets new standards within the realm of online marketing and revenue growth.
Marina Gómez Lara
Head of Intelligence Operations
Marina Gomez Lara has a career that spans across multiple prestigious institutions making her a prominent figure in the field of intelligence and security operations. Currently she is the Head of Intelligence Operations at QuoIntelligence, where she combines perspectives with practical realities.
During her time as a Researcher at the European Commission, Marina conducted research on European security and Critical Infrastructure Protection (CIP). Her contributions to the European Programme for Critical Infrastructure Protection (EPCIP) within the Directorate of Space, Security and Migration played a role in shaping security policies and frameworks across Europe.
She obtained her Masters degree in Global Security, Cyber Security and Intelligence from the University of Glasgow. Additionally Marina has studied Criminology and International Law at Nantes Université, and holds a Bachelor's degree in Criminology from Universidad Rey Juan Carlos. In addition to her achievements Marina has further enhanced her skill set through various certifications. She completed the Intelligence Professional´s Immersion Program at the Journal of American Intelligence Studies and obtained certifications in Anti Corruption as well as the International Framework Against CBRN Terrorism from UNODC. Furthermore she expanded her knowledge on terrorism and counter terrorism through a MOOC offered by Universiteit Leiden.
Marina possesses a talent for languages being fluent in Spanish, English, French, German and Italian. This skill allows her to establish connections with security professionals worldwide and assist in conducting intelligence operations across languages.
Beyond her endeavors, Marina's compassionate nature is evident through her volunteer work at the Spanish Commission for Refugees (CEAR). This involvement highlights her dedication not to security matters but also to humanity as a whole. In summary Marina Gomez Lara is an individual who combines academic excellence, professional expertise and a strong commitment to human values. Her unique combination of qualities makes her an invaluable asset to the security and intelligence community.
Ari Bizimis
Shareholder
Mr. Bizimis is a trained banker and studied business administration at the Johann-Wolfgang-Goethe University in Frankfurt. He has held management positions at JP Morgan, Commerzbank, Dresdner Kleinwort Benson and was a member of the Board of Directors of Cytori Therapeutics Inc. in the USA. In August 2005 he founded Mercurius AG. He is also a member of the Supervisory Board of Mercurius Real Estate AG and shareholder at QuoIntelligence. 
Mr Bizimis has been active as a (real estate) investor and co-founder of companies since 1998. Among them are for example Mercurius, Anturec Pharmaceuticals, EQS Group, casualfood, GVG Glasfaser, Supreme Sports Hospitality, and of course QuoIntelligence.  
As a shareholder in QuoIntelligence, he brings his extensive experience in business development and investment to the table. Ari's involvement with QuoIntelligence is just one example of his ongoing commitment to investing in innovative and promising companies. 
Marc Penkala
Advisory Board
Marc started his entrepreneurial career in 2004. Ever since he has founded or co-founded three companies, whereof he managed to successfully sell one and turn one profitable – all of them in different industries from retail over marketing to HR, with combined 8-digit lifetime revenues. 
In 2013 Marc started his professional investment career at Mountain Partners AG, he has been managing early-stage and follow-on investments across Europe, the United States and Latin America. From 2015 onwards he has been the responsible Investment Director for Latin America at Nazca Ventures – he has been sitting on multiple investment committees and he served as a Board of Directors to various entities. Furthermore, Marc started angel investing in 2015, he professionalized and shifted his investment activities in 2020 into Minimal VC GmbH. He has done 26 investments, including four venture capital fund investment across the globe.  
At the moment Marc is the General Partner of āltitude an early-stage lead ticket investor in B2B software startups in DACH, aside of that he is a member of several VC advisory boards such as Giano Capital, Korify Capital, Klio Capital or Nucleus Capital. Furthermore, he is an advisor to AQVC, Kensho Capital and Studio54 and he acted as senior venture capital advisor to Hypoport SE (MDAX) and Henkel AG (DAX) and various Family Offices.   
Marc is serial entrepreneur and seasoned venture capitalist with a profound stage and industry agnostic investment track record as an angel. He is a hands-on operational architect with proven transactional direct investment experience, as well as a complex understanding of venture capital fund economics and structures. Marc studied business economics at Freie Universität Berlin, UNSW Sydney and LSE PKU Beijing. 
Dirk Seewald
Partner, eCAPITAL
Dirk is an engineer by education and has been CEO, COO and board member in companies such as VPIsystems, Innominate Security Technologies, PHOENIX CONTACT and SecurityMatters. An entrepreneur by heart, he chose starting his own company in the nineties over pursuing a PhD. Dirk has deep experience in telecoms, industrial automation, cyber security and IT markets. He holds a MSc. Degree in Electrical Engineering and is a licensed DJ.
Dirk lives with his family in Berlin and deeply enjoys its openness, greens and waters as well as its vibrant arts scene. He cares about freedom, human rights and loves innovation.