Founded in February 2020, QuoIntelligence is a spinoff of QuoScient's Intelligence Team QuoINT, with an established presence in the EU and US markets.  We are a cyber intelligence startup committed to informing decision makers of current and prospected cyber and geopolitical threats by providing Finished Intelligence, tailor-made for your organization. We use the term Finished Intelligence because we are not another data or information feed provider.
Our multi-disciplinary and multi-cultural team provide full contextual analyses to produce Intelligence and better enable decision makers with prioritization and mitigation. By prioritizing customer requirements, we ensure our products are customer-centric, close real security gaps, support risk management, facilitate early detection, answer regulators, and more.
Headquartered in the geographic center of the European Union, Frankfurt am Main, Germany, we are successfully integrated and servicing several verticals across the region. Also Incorporated in the US, we are supporting international and regional organizations, with remote analysts located on both coasts. Likewise, this geographical footprint enables us to follow the sun global workflow.
Since our early days at QuoScient and now at QuoIntelligence, we are trusted by our clients to consistently deliver cybersecurity solutions, tailored to their environment.
Being both a member and leader in the information sharing community is both a powerful and volatile position. When organizations entrust not only their budget, but responsive actions in our company and the information we provide, it is essential to adhere to a strict standard and embody core values understood by every member on our team. These core values defined below are rooted in who we are and feed into our day-to-day reality as a pivotal member in the information sharing community. It is because of these values that we continue to focus on the mission and represent the community we serve.

Discipline
First and foremost, we understand that security is a very serious matter. As such, our analysts rely on scientific processes for all our analysis to ensure the integrity of the finished intelligence we provide to the customer. As individuals and as a team we represent professionalism in everything we do, and we focus on delivering actionable intelligence efficiently.

Passion
Our shared passion drives us to provide a high standard of excellence to which we continuously strive for each day. This passion fuels us to be visionaries in the field in order to plan for future growth and forecast a changing threat landscape. We are committed in protecting the environment of our customers, as well as providing visibility to the information sharing community.
Dedication
To put it simply, our clients are our priority. We tailor our intelligence products around customer requirements to ensure the products are actionable, relevant, and timely. At the end of the day, our customers rely on the intelligence we provide to help protect their organization and assets. It is our duty and mission to guarantee our products are used across the enterprise. 
Our expertise is driven by our people
We are coming from differents brackgrounds:


Defense and National Security


We are a multi-cultural team with a complementary skillset: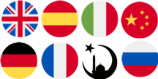 Marco Riccardi
CEO | Founder
Marco Riccardi is a passionate scientist who joined QuoScient in 2017 and created an entire business line dedicated to Threat Intelligence from scratch. In six months, the team known as QuoINT went live with some of his former colleagues (including Allison and Chaz) who joined him from Deutsche Bank, where he used to work before as Threat Intelligence consultant. The team grew during the following six months and was able to enter the market in 2019 with a dedicated Threat Intelligence offering. He presented the exclusive research produced by QuoINT at several cyber security conferences worldwide.
During the seven years prior to that, he covered different operation roles in some of the most influential Financial Institutions in Germany and Spain, working as e-Crime analyst, SOC operator, Incident Responder, Digital Forensic investigator and finally as Cyber Threat Intelligence analyst. Before that, he spent four years in the IT/Information Security consultancy sector as system and network engineer and penetration tester. He started his career by voluntarily joining the Italian military and serving in the PSYOP Army Regiment.
Marco has been both a researcher and an open-source developer. He presented his personal research to multiple security conferences and has been awarded by IEEE in 2010 (eCrime Fighters Scholarship Award) and CLUSIT in 2008 (Best National Theses on Information Security in Italy). He contributed as reviewer for different academic scientific journals, including COMNET, Network and Computer Application, International Journal of Information Security, and Security and Communication Network journals. Marco holds a bachelor's degree in computer security obtained at University of Milan (IT), a master's degree in Cyber Intelligence obtained at Utica College (US) and CISSP, GCIA, and GCFA certifications.
Finally, Marco is the type of suspicious person that usually tends to mistrust any information as long as he is sure that he performed enough source-validation on it. He also like to encourage others in being skeptical like him, by mistrusting information like his bio as long as they do not find evidence disproving it.
Allison Ebel
Chief Operations Officer
Allison Ebel has worked and lived Information Security since 2011, including enterprise cybersecurity and software development security, security operations, and threat intelligence communications. Since 2018 Allison has led the threat intelligence team as the product owner of weekly threat intelligence briefings for clients across several industries including banking, manufacturing, and government. Allison oversees the day-to-day operations of our multi-disciplinary and multi-disciplined team, driving the long-term company strategy for client success, and living and breathing threat intelligence along the way.
Prior to her startup adventure, Allison worked with industry and former government colleagues in Deutsche Bank's Cyber Threat Intelligence team as an Analyst.  She supported international teams in security operations, forensics, and vulnerability management.  Her research and analysis of the latest pertinent cyber threats and threat actors provided internal stakeholders mission critical information to drive response and mitigation.
Before joining Deutsche Bank, Allison worked at the United States Department of Homeland Security (DHS) as a recruit and recipient of the U.S. CyberCorps Scholarship for Service.  She worked in the U.S. Federal Government as part of the Network Security Deployment agency, a large-scale cybersecurity implementation for the .gov networks, part of the Cybersecurity and Infrastructure Security Agency (CISA) within DHS. Her work included reviews and assessments of cyber engineering projects for security soundness prior to production delivery to all .gov agencies, assessment of test environments and analytic prototypes, as well as analysis and response to threats co-leading teams of public and private sector stakeholders.
Allison graduated from California State University San Bernardino with a bachelor's degree in business and Cybersecurity, where she worked in the Information Security Office on vulnerability management and incident response. When she is not in airports or coffee shops Allison calls Phoenix, Arizona home.
Chaz Hobson
VP | Threat Intelligence
Chaz Hobson has worked in Cyber Security since 2010. As an enthusiastic researcher, looking for an opportunity which presented new challenges and growth potential, Chaz joined QuoScient in 2018 to help establish the Intelligence Operations Team (QuoINT) with Marco and Allison. As a member of the team from its beginning, his prior experience in the industry enabled him to function as a Senior Intelligence Analyst, researching threats and driving actionable intelligence through various product offerings and internal catalogs.
During the years prior to QuoINT, Chaz worked in IT services and Web Development, before joining Deutsche Bank in 2010 and beginning his professional corporate career. During his eight-year tenure with Deutsche Bank, Chaz held positions on both the Threat Intelligence and Malware Response & Research Team. Presented with a great opportunity, he relocated abroad to Singapore for approximately two years as lead of the Malware Response & Research Team, tasked to initiate the local team and help orchestrate the development of the team, functions and technologies.
Over the years, Chaz presented research and intelligence topics at multiple security conferences and forums. He has always displayed a passion to share information and knowledge, a key factor to the success of the security community.
Chaz holds a bachelor's degree in Computer Information Systems with a specialization in Networking, obtained at New Jersey Institute of Technology (NJIT). Outside of his professional work, Chaz is a sports and car enthusiast, and a passport stamp collector.
Odín Rodríguez Lago
Chief Technology Officer
Odín Rodríguez Lago is a consummated Information Technology professional, with an extensive and multidisciplinary career. He has played multiple roles during the last seventeen years, now as Chief Technology Officer, and before as Enterprise and Security Architect, Project Manager, Technical Lead, and Consultant. He has sound experience in different IT fields like Information Systems, Cyber Security, or Analytics & Big Data.
Before joining QuoINT, for the last five years, he has been consulting in the Benelux region as Enterprise Security Architect and Project Manager; for different companies and institutions like the European Commission, Atos Belgium,  the European Council, and the European Patent Office.
Before going to the Benelux area, he was in Germany. He worked as a Technical Lead and Security Consultant for the Security and Architecture division of the European Central Bank for six years.
Back in Spain, for seven years, he was working as an Information Systems architect. He started his career as a developer and systems integrator, mainly in the open-source area.
Odín holds a Software Engineering degree, a Master's degree in IT Security, and a Master's degree in Analytics & Big Data. He is certified as a TOGAF Enterprise Architect practitioner by the Open Group, and as a Security Architect practitioner by the SABSA Institute.