With Us, Threat Intelligence Is Not Just Another Data Feed!
Work with us to
Reduce costs by 95-98% compared to setting up a Threat Intelligence function from scratch in your organization.

Gain more time to focus on what is relevant for your organization because our Threat Intelligence Analysts filter out the noise for you.

Ensure a highly-qualified team of Intelligence Analysts from the fields of Cybersecurity, Geopolitics, Data Science, and more on your side.
Talk to our experts today
Check out our services in detail!
Curated Threat Intelligence Customized To Your Organization
With us, Cyber Threat Intelligence is not just another data feed.
While indicators of compromise (IOCs) are part of the vast umbrella of data processed by intelligence providers, our final products are actionable and customized Finished Intelligence Reports. We believe that this is where the real value of Cyber Threat Intelligence lies: in the quality of the vetted and actionable intelligence.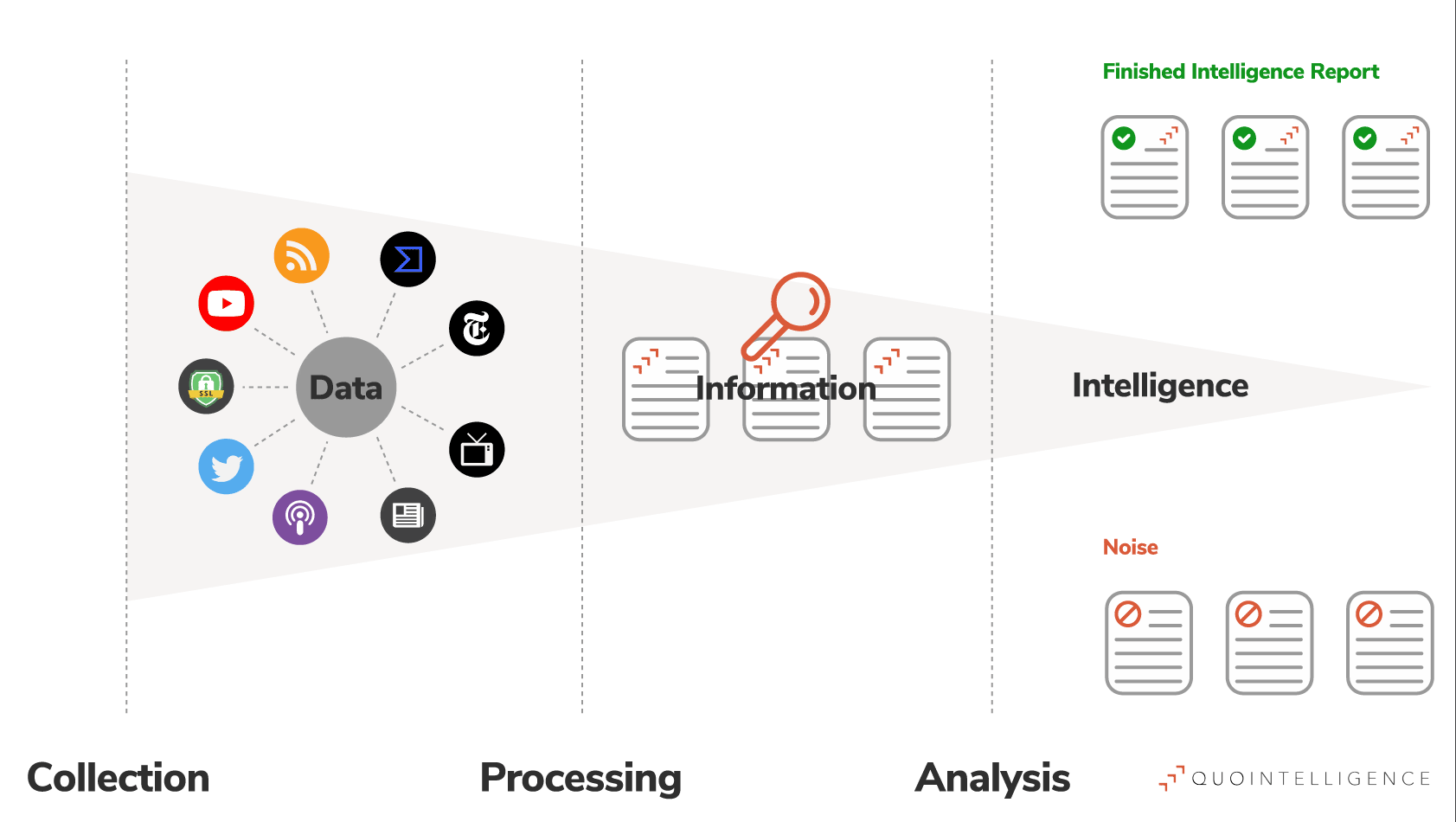 Our Threat Intelligence is based on a progressive refinement of data and information available on both open and closed sources, which is analyzed by our intelligence experts to produce actionable recommendations. QuoIntelligence analysts take into consideration the targeted entity as well as economic, social, and geopolitical contexts.
What are the Main Benefits of investing in Cyber Threat Intelligence?
Better Managed Information Overload
The amount of information we are consuming daily adds up to a total of 34GB – a number that is increasing by the minute!
Our Threat Intelligence allows you to filter out the noise and focus on what is relevant to your organization. By being aware of which threats are targeting your organization and threat actor tactics, compared to weaknesses within your organization, you are able to prioritize your time and resources on mitigating threats that directly impact you.
A Prepared and Fully Equipped Team
65% of organizations are reporting a shortage of staff dedicated to Cyber Security.
As per a global study by (ISC)² from 2019, this makes staffing the top concern of organizations looking to battle Cyber Threats world-wide.
In fact, the (ISC)² estimates that the global cybersecurity workforce needs to grow by 145% to defy the increasing risk of cyber threats.
Fortunately, for now, you can leave the heavy lifting to our Cyber Threat Intelligence experts and simply take advantage of the latest AI technology and highly trained/specialized intelligence analysts via our service and technology.
Prevent, Detect and Respond Quickly to Breaches
In 2020 the global average cost of a data breach were USD 3.86 Mio. The United States have the highest country average cost with USD 8.64 Mio.
Cyber Threat Intelligence allows you to implement the right cyber and operational resilience strategies early on, in order to avoid:
Exploding ad-hoc costs and high damage control spending
Unpatched vulnerabilities
Exposed assets
Human Errors
Monitoring gaps
Planning Cyber Resilience in a Scalable Way
Our Finished Threat Intelligence Solutions
Threat Intelligence Starter Pack 
The Threat Intelligence Starter module offers clients a solid base to strengthen their Threat Intelligence efforts and cybersecurity resilience. It immensely supports in-house decision-makers by granting access to a variety of reports and information tailored to your organization's needs.
Threat Intelligence Starter Pack in Detail
Access to Intelligence Platform Mercury 
Mercury is our in-house developed Threat Intelligence Technology Platform. As a client, you will get exclusive access with the ability to download the Weekly Intelligence Snapshot PDF to share and discuss with other stakeholders and access related Intelligence tickets, which are sourced from the Weekly.
Mercury is interactive: Users can filter by more than 15 metatags, Like and Dislike intelligence (facilitating our Machine Learning), export data to PDF, CSV, and JSON, as well as plot timelines and visualizing metrics.
Mercury is accessible: mobile and tablet friendly, accessible 24×7. Real Time: Information is accessible as soon as it is collected and processed by analysts.
Mercury is user-friendly: Users can choose to display Mercury in light or dark themes, and create custom dashboards.

Our sources are ranked based on the NATO's admiralty code giving you a reliable method of collecting and evaluating intelligence
Weekly Intelligence Snapshot  
Our Weekly Intelligence Snapshot is sent every Thursday by e-mail, with all related tickets and their actionable intelligence (IOCs and MITRE ATT&CK Tags) going live in Mercury at the time of distribution.
The "Weekly" covers notable events in the Cyber and Geopolitics fields which occurred in the last seven calendar days, as well as highlight events scheduled for the following seven calendar days. We report on both open source (OSINT) findings and QuoIntelligence original investigations.
Cross-Sector Warnings 
Our Cross-Sector Warnings cover major vulnerabilities and imminent threats affecting users in all sectors. Examples include likely imminent 0-day exploitation.
API Integration
Threat Intelligence Advanced Pack 
The Threat Intelligence Advanced includes all services of the Threat Intelligence Starter Pack module. It offers subscribers access to the entire knowledgebase of QuoIntelligence. Therefore, it supplies in-depth information to rely on further analyses and business operations on.
Threat Intelligence Advanced Pack in Detail
On top of all services included in the Threat Intelligence Starter Pack, you will get
Access to Industry-targeted Intelligence, e.g. industry-specific threat landscapes
Unlimited access to all intelligence tickets produced, from OSINT and non-OSINT sources (e.g. underground forums, etc.)
Access to the QuoIntelligence info lake

Enhanced data set mass ingested from diverse sources

Access to Knowledge Base Catalogs:

Threat Actors
Malware Kits
ATT&CK Techniques
Company Profiles
Technology Catalog

QuoIntelligence Relevancy Scoring (QRS) system
Unlimited Search & Analytics to query and pivot on all existing metadata to drive your own analyses and build customized reports & dashboards
API Integration
On demand: Table Top Exercises
Vulnerability Management
Proactively update your organization's assets before they are used for cyber-attacks. We provide you with in-depth information on current vulnerabilities and exploitation attempts to support you with the highest level of protection.
Vulnerability Management in Detail
Access to QuoIntelligence Knowledge Base on Technologies & Vulnerabilities  
Alerts on new relevant Vulnerabilities and Exploitation attempts 
Suggested Courses of Action provide you with actionable intelligence
Threat Intelligence Helps Your Organization in Each Planning Phase
Strategic Threat Intelligence
 What is it?
An overview of an organization's cyber threat landscape supporting executives and high-level decision-makers in being prepared for prospective threats.
How and when is it deployed best?
This less technical, and highly curated, intelligence presented through accessible reports and briefings helps organizations allocate future resources, plan cybersecurity program budgeting, and identify the risk of impact.
Learn more about our Finished Intelligence services.
Operational Threat Intelligence
What is it? 
Tailored assessments and briefs informing day-to-day decision making by helping defenders understand the context, nature, and sophistication of known attacks and incidents targeting their organization. 
How and when is it deployed best? 
This type of intelligence includes up-to-date profiles of threat actors, malware kits, country risk levels, source catalogs, as well as assessments of current threats, trend analyses, and more. Utilize it to initiate your defense operation against present threats as well as to prepare your team and organization against future threats!  
Learn more about our Weekly Intelligence Snapshot subscription. 
Tactical Threat Intelligence
What is it? 
Our tactical Threat Intelligence offering includes intelligence feeds and vetted data to assist organizations in real-time monitoring and early detection.  
How and when is it deployed best? 
Addressing a more technical audience, this intelligence aims at influencing tactical decisions and analysis, as well as providing the granular indicators often used for machine-to-machine detection. The intelligence is presented through our technology, including our Intelligence Portal Mercury, via API or other standardized formats (MISP). 
Learn more about our Mercury Threat Intelligence portal. 
Geopolitics as an Essential Aspect of Our Threat Intelligence Analysis