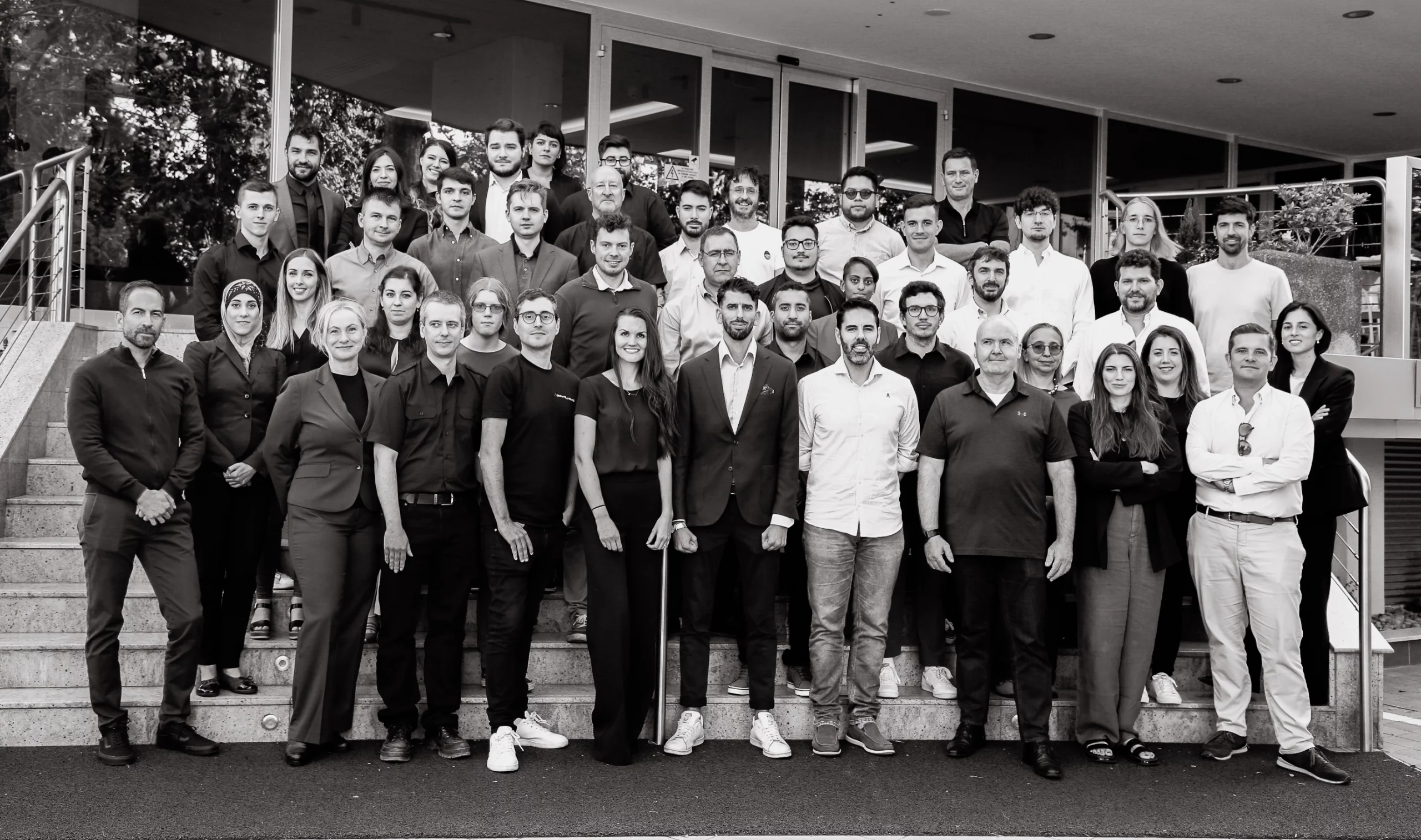 In the last week of September 2023, our company held its annual corporate retreat at the Italian seaside city of Rimini. The retreat was a great opportunity for us to bond as a team, learn new skills, and recharge our batteries. Here we share what we liked, lacked, and learned about our corporate retreat.
What We Planned
The retreat had a great mix of team-building activities, workshops, and free time. We were staying at Hotel Aqua and Hotel Aria in Rimini, with meeting rooms at both.
We structured the week as follows:
Monday: Fly in, check-in, and attend two hours of company presentations followed by a company dinner.
Tuesday: Morning and afternoon both full of company presentations. In the evening we took the whole company to a surprise event, the Piadina Experience, where we cooked together and enjoyed great local food.
Wednesday: Morning and afternoon were up to the teams to organize themselves. Free evening.
Thursday: Team workshops in the morning and afternoon, and the big evening party took place at the Collina Dei Poeti winery in the outskirts of Rimini. After a bus ride back, the night went on…
Friday: Team workshops in the morning and last team lunch together. Some colleagues left and others stayed the night with evening activities like a catamaran sunset experience, a bike tour of Rimini, and an executive team visit to San Marino.
Saturday: (optional): said goodbye and fly back.
These activities helped us to develop stronger relationships among teams, with our colleagues and build trust.

What We Liked
Our internal survey ranked the hotel as 8.86/10 which is not a surprise — the food and service were absolutely spectacular, and the rooms were great. Organization ranked 8.71 and social activities scored 8.39.
Here are some of the key elements to our successful workshop:
Hired a professional organizer

:

Milana

from

OnsiteHub

and her local partner Daniele were essential to sourcing the venues, suggesting great ideas, and ensuring the travel experience was the smoothest we've ever had for our biggest event to date!

Used Coda.io as single-source-of-truth and hub for the event.

Agenda, transfer info, policies, FAQs, allergy info, tips… all in one. Excellent UX, and mobile-first.

Had an active Signal group

with all colleagues in it, for urgent and rapid comms.

Found a great hotel with excellent food, with full board.

This

was efficient for all as nobody had to worry about finding a local restaurant in a break, but also efficient from a finance team perspective (less expense reports to process for our colleagues).

A mix of mandatory and voluntary social activities:

the mix is the key to the success of the social aspect, and each company is different. I'd say we took a step in the right direction.

Having some customers around was great

: the teams saw who uses our product, interacted with them, and the customers got to meet the faces behind our intel.

Blocked a couple of days for the teams to get work done:

some used it very wisely. For example, a problem was presented on Tuesday to the whole company, and the three teams with a dog in the fight sat down in the big room on Wednesday to understand the problem better and aim at solutions.

The Hackathon:

A bottom-up idea which resulted in amazing ideas, some of which will be brought into our roadmap.
What We Lacked
Our internal survey ranked the balance between structured work and free time as 7.14, and the conference rooms as 7.79. Not bad ratings, but far from the other scores.
General feedback is that the schedule was sometimes too packed, and we felt rushed from one activity to the next. Our team expressed they would have appreciated more free time to relax, mingle with others, or visit the center of town.
Here are the key elements we took away as lacking at our 2023 Workshop:
The big room

for companywide presentations was set up like a press conference and had a couple of columns in the way. Next year we should source a theatre-configured room with clear visibility.

The breakout rooms

were OK but perhaps not the most functional.

Missed Rimini: A lot of us had no chance to visit the center of town as it was a bit far on foot (25 mins).
Fitness: For a company that has Mens Sana In Corpore Sano

as a core value, a lot of us missed a gym in the hotel or more "sporty" activities.

Celebrating us a bit more: We should have allocated a specific slot to show recognition to colleagues. We ran our 2nd year of QuoIntelligence Awards at the evening dinner, but we should have given it more time and recognized a couple more people (like Beatriz

!).

Time to work: Some teams still did not have enough time to get work done.
Structure in some teams' sessions: some colleagues missed a structured approach to their specific team breakouts.
Brainstorm sessions among teams, as one colleague put it "they are building common ground to be able to work well in the future".
What We Learned
Overall, 2023's Workshop was a valuable learning experience for us. We learned that effective team building requires both structured activities and unstructured time to socialize and bond.
The following are our key learnings from this year:
A remote location (no pun intended) is better for The Workshop. A city is best for team or department gatherings, which are smaller in attendance and day allocation.
6 days is too much for most folks. We had already made Saturday voluntary, but we think we need to shed a day in any case. The survey indicated that 40% preferred five  days, 35% said three, and 25% said six.
1.5 days of presentations to the whole company in a top-down format was too much. Most "introduction to my team/area" style presentations should be content that's presented to new starters at onboarding stage. Other topics could have been done at our town halls that run every six weeks. If we bring the whole company into a room to listen to a presentation, it should be about strategy, big announcements, or a Q&A with leadership, customers or investors.
Monday and Friday should be just "travel and get work done" days. We tried to squeeze in a couple of key presentations on Monday afternoon and a couple of people missed them. This could have been "get work done" blockers, leaving the keynotes for Tuesday.
Make all food always included. So, full board for all days. This time we had a couple of lunches and dinners not included which confused some folks and was not so efficient.
Local food all day every day for a week was too much for some colleagues. Everyone loved it, and we chose Italy as a destination, but it's something to consider for next time if we can introduce some diversity.
Have blockers to get work done every day. So, don't block entire days for things like company presentations and activities, allow for some time each day to focus on the work. Otherwise, you may find colleagues with a laptop at lunch or dinner trying to get something urgent done.
We need to meet more often.

This will be done at department level.
In conclusion, our annual Workshop was a positive experience that helped us to bond as a team, learn new skills, and recharge our batteries. While there were areas for improvement, we appreciate the effort that went into planning and executing the retreat. We are already looking forward to next year's Workshop!