Tailor-Made Threat Intelligence
QuoIntelligence's finished intelligence will significantly reduce operational risks while allowing you to make informed security decisions. Our experts help your team understand the evolving cyber threats and provide comprehensive yet straightforward recommendations so you can focus on what matters.
Talk to our experts today
Prepare Today Against Tomorrow's Cyber Threats
QuoIntelligence equips you against relevant threats and enables your organization to prepare and respond to them.
We have got you covered! 
Book additional services or request ad-hoc support to fully cover all your cybersecurity needs at any time.
Intel Report on Demand
Request ad-hoc reports ranging from technical malware reversing and analysis to strategic intelligence forecasting.
Intel Analyst on Demand
Our Intelligence Analysts support your cyber defense center whenever special expertise or additional staff is needed.
Domain Take-Downs
We support the take-down process of unauthorized domain names, or removal of sensitive web content abusing your brand.
Maturity Assessment
We assess your Threat Intelligence maturity level and recommend a customized growth path forward.
Custom Intel Reporting
Hyper-customize the weekly intelligence reports you receive from us to the needs and looks of your organization.
Mentoring & Coaching
From C-Level to Analysts, we mentor and coach your organization in running daily operations based on threat-driven methodology.
Finished Intelligence Trusted Across Multiple Industries & Clients

Leaders in the payment industry in Europe

Members of the Central Banking system in Europe

Companies in the German DAX30

Government bodies working in National Security

National leader cross-sector information sharing community in Europe

Significant Banks in Europe supervised by the ECB and BAFIN

Main stakeholders in the international monetary policy-making

Most active Law Enforcement Agency on international e-crime cases
How our Clients use our Intelligence service on a  daily basis
Budget Management
CISOs and CIOs work with our Intelligence Estimates to plan their yearly budget for security controls and services.
Risk Assessment
Risk Managers use our forecasts, likelihood scores, and assessments to better evaluate risks targeting their organization. 
Threat Detection
SOC teams and their SIEM/TIPs leverage our high-reliable indicators of compromise (IoCs) to detect new threats within their network.
Respond Regulatory Enquires
We provide our clients with Intelligence reports that support them to answer inquiries coming from industry regulators. Additionally, they suggest the best course of action.
Drive SIEM use-case definition
Our Intelligence catalogs contain detailed information on Threat Actors, Malware Kits, and e-Crime service providers each one mapped with MITRE ATT&CK Techniques. Therefore,  we support the definition of SIEM use cases aiming at covering the most likely threats.
Threat Hunting Activities
The Techniques, Tactics, and Procedures (TTPs) documented in our Intelligence catalogs are used to drive Threat Hunting exercises. Our experienced analysts support the brain-storming activity preluding the Threat Hunting exercise, and more.
Red Team Exercises (TIBER)
We support your TIBER-Exercise. Our Threat Actor Assessments drive your Red Team exercises. No matter if TIBER-EU, TIBER-DE, TIBER-NL, TIBER-FI, or TIBER-BE.
Risk Reduction and Mitigation
The recommended course of actions described in our Threat Assessments and Estimates reduce the Residual Risk of public organizations and enterprises worldwide.
Vulnerability Management
Our Intelligence Bulletins promptly warn you about current or imminent exploitation activity against 0-days/n-days vulnerabilities. Our clients use them to prioritize and expedite patching activities within their organization.
Threat Intelligence Analysis
Our Intelligence reports support the mission of Cyber Threat Intelligence and Physical Security teams while responding to Request For Information (RFI) calls. Additionally, they can access all our  Intelligence catalogs and entire knowledge base within Mercury.
Travel Security
Our Country Risk Profiles support our clients' employees when traveling in countries with a high risk of espionage and surveillance. Clients can apply our recommended Course of Action (CoA) to reduce the risk of their employees being surveilled or implanted while visiting such countries.
Policy Making
Policymakers working in national digitalization programs or regulatory institutions are using our Intelligence Estimates to define and sharpen policies. Our services support them to keep their citizens safe and have control over their entities.
Accreditations and Latest Research
Our work is accredited by: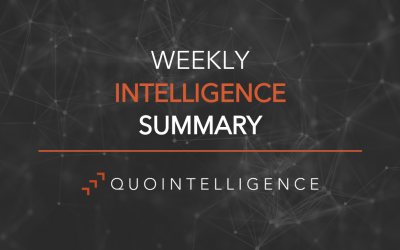 New Malicious Malware Attacking Italian Users | Latest Microsoft Patch Tuesday | Rising Trend in Cyberattacks Against European Infrastructure
read more
QuoIntelligence is happy to announce a successful
Seed Funding Round with eCapital.