QuoIntelligence experienced a positive and eventful 2022. Here we outline the highlights of an incredible year, not forgetting that we could not have achieved any of it without the loyal support of our wonderful customers.
2022 was a year of incredible growth for QuoIntelligence in many aspects. We grew our customer base by 125% (diversifying into new sectors), released a super new version of Mercury, opened offices in new countries and expanded our customer-dedicated, expert team by over 100%.
All of the above, and more, meant we delivered on our number one promise to our customers — to protect them by proactively detecting threats, forecasting trends in their particular cyber and geopolitical landscapes, and recommending courses of action.
Figures speak for themselves. QuoIntelligence's recruitment process is tremendously rigorous and this translates into the assembling of an exceptional team. The common goal of delivering value that the customer wants runs through every department. And from this our service brings peace of mind to our customers in their mission to secure their organizations.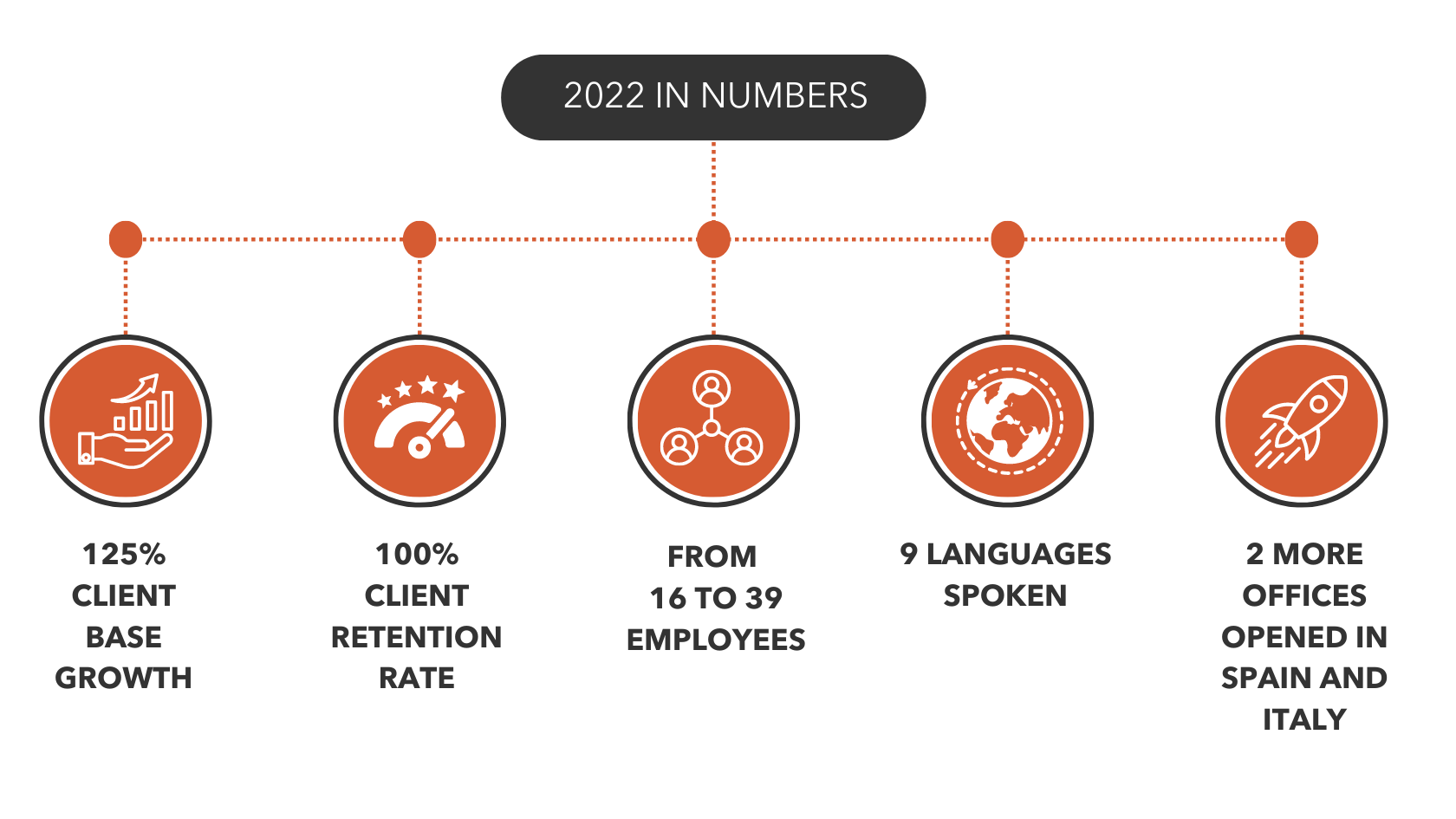 LAUNCH OF MERCURY 2.0 —
TAILORED INTELLIGENCE ON DEMAND
The launch of the new version of our client Threat Intelligence Platform, Mercury 2.0, represents a dramatic improvement in user experience, increased scope, and a whole new set of features and benefits.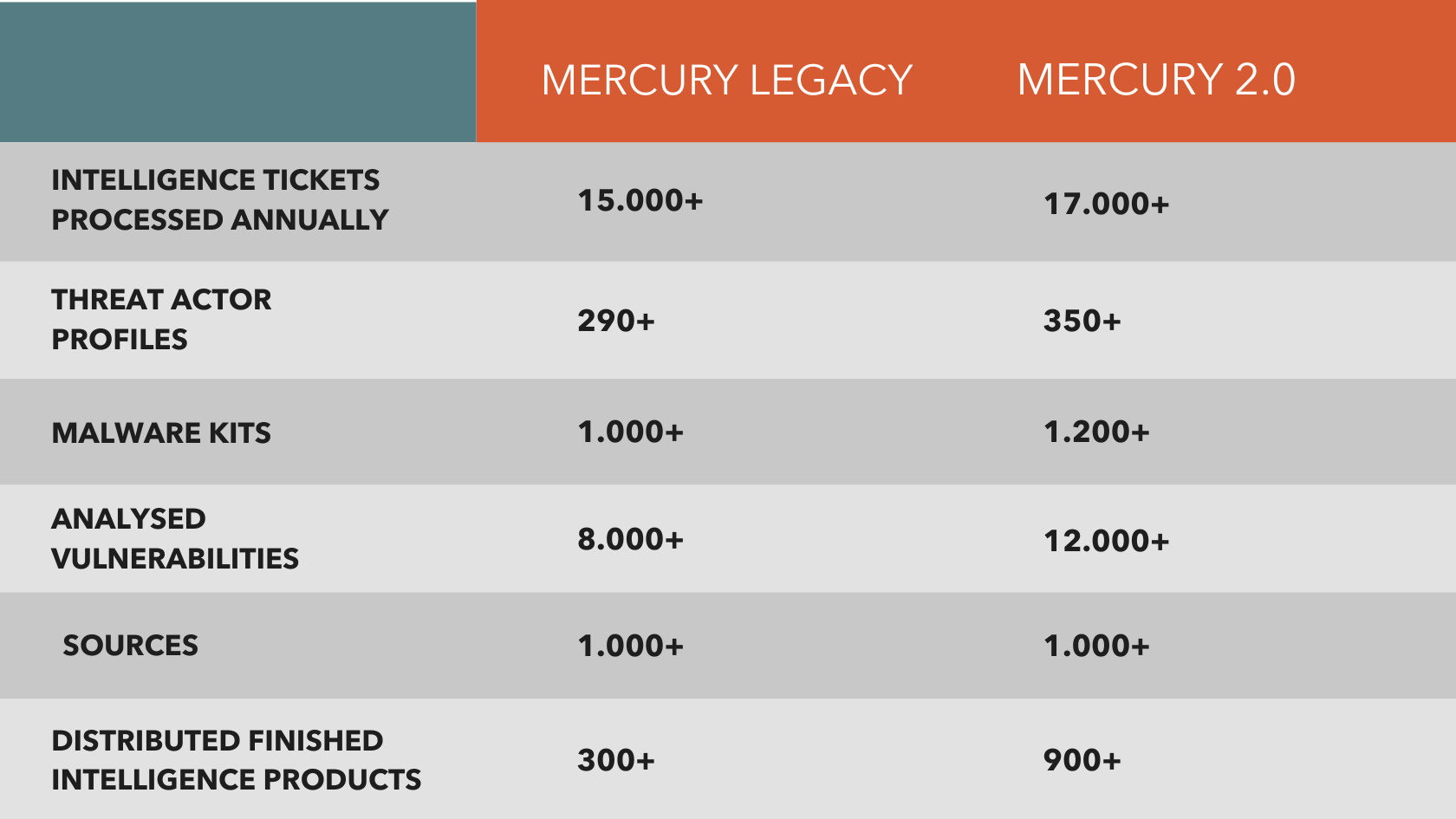 Look out for regular updates and new feature releases throughout 2023.
ACCURATE FORECASTING —
THE QUOINTELLIGENCE HALLMARK
Our Intel Team continually researches and produces reports, analysis and forecasts. These are are vital elements for our customers. They enable them to proactively plan their security programs and make the decisions that keep their organizations safe. So the analysis and forecasts we provide must be accurate. How did we do? During 2022 we:
Foresaw that Initial Access Brokers would become almost a constant and essential part of the Ransomware business model. We also observed the surge of a subtype of initial access broker, Traffers — infostealer operators monetizing their business.
Observed a research post on Twitter allegedly related to the Mustang Panda malware family. The RAR archive included legitimate PDF documents as well as a legitimate executable used to sideload a malicious DLL file. While DLL sideloading is a technique commonly employed by Mustang Panda, the method of delivery shows a departure from previous campaigns.
Identified early — and reported about — Industrial Spy, a new extortion group. We spotted immediately a shift in its criminal model when it started using ransomware a month after its appearance.
Linked malicious certificates revealed by Google to advanced Android backdoors used by Lazarus in 2016.
BRAND ABUSE
Social Media Monitoring Team continued to bring brand abuse activity to the attention of potential and actual customers through its bespoke snapshot reports. For existing customers, the team successfully and regularly disrupted several scam campaigns in the financial and retail sectors, surfacing numerous cases of fraudulent social media activity.
QUOINTELLIGENCE ATTENDED & SPONSORED
TOP CYBERSECURITY EVENTS
We attended and sponsored influential events in the European Cybersecurity sector including ItaliaSec and ECSO's first-ever CISO Meetup. We also conducted speaking engagements at the US Consulate Frankfurt's Cyber Security Conference and The Geneva Association's Cyber Conference.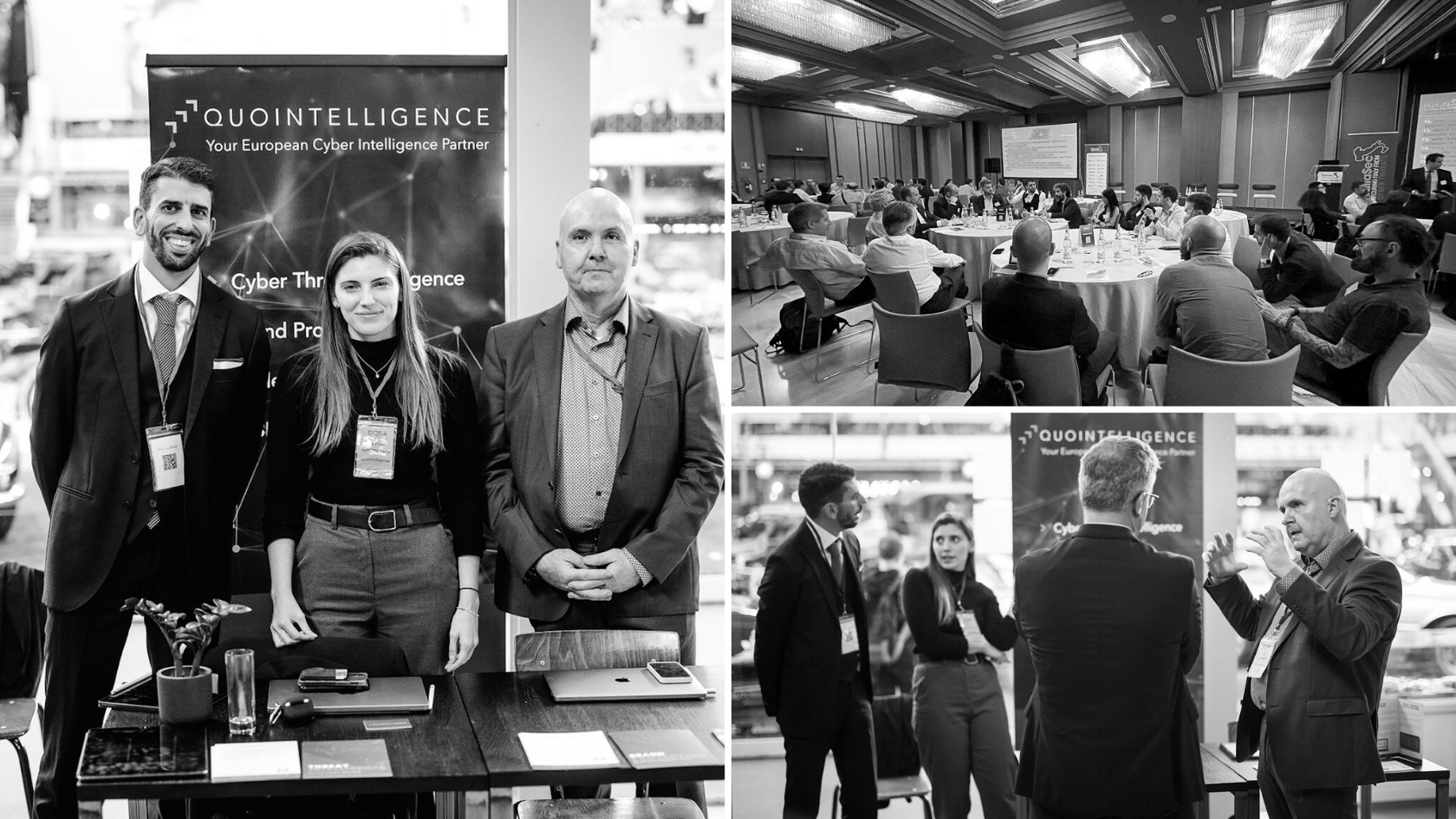 OUR FIRST GLOBAL WORKSHOPS
As a 100% remote-working company, we were ecstatic to hold our first Global Workshop. We gathered in Rome for a week to not just finally meet each other, work side-by-side and plan for 2023, but also to enjoy the Eternal City and create and share many good times together. All agreed that as a team-bonding event, no one had experienced better!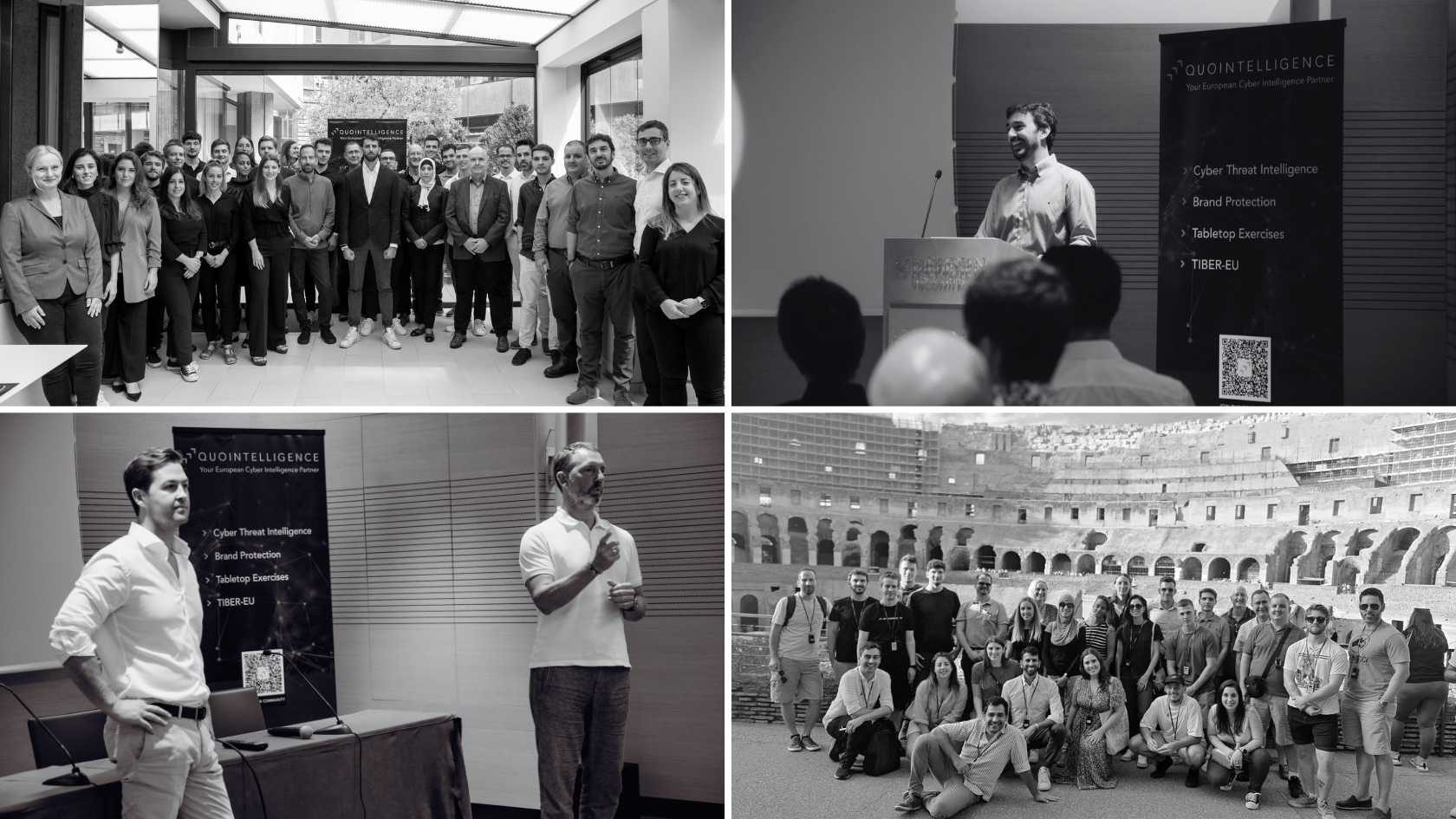 INTELLIGENCE ANALYSTS WORKSHOP
Choosing Madrid as the venue, our Intelligence Analysts Team held its own Global Workshop with guests from the Revenue & Tech Teams. As in Rome, enjoyable fun evenings punctuated the hard-working sessions.
We are already planning the next one – Tech Team, it's your turn!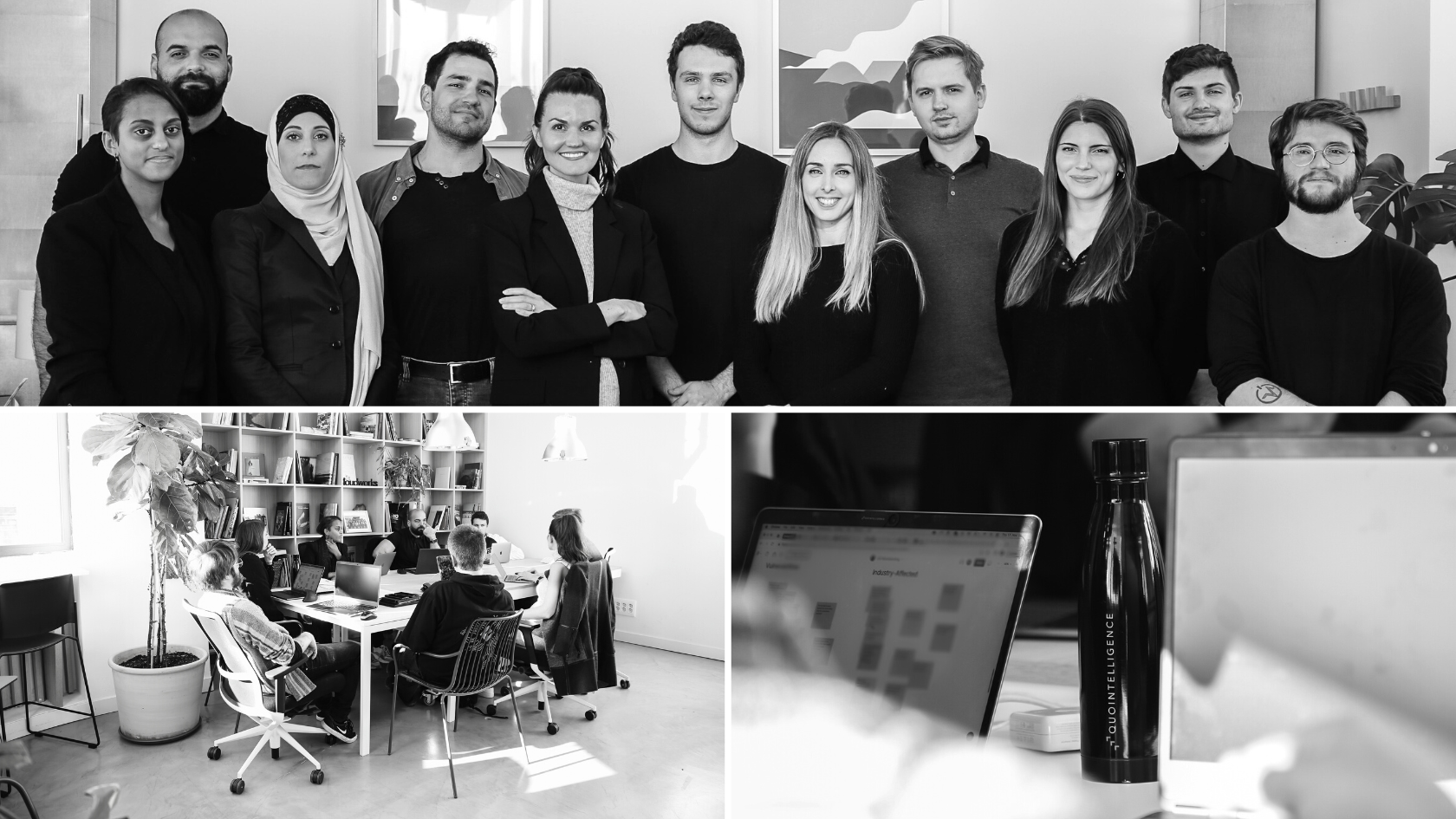 AND FINALLY…
Thank you to every organization that has trusted us as we pour all our expertise into becoming Europe's number one Threat and Cyber Intelligence Partner.
Thank you to everyone in our Team for always being so dedicated to providing nothing but excellence to every customer.
And thank you to our partners and investors for your faith and support.
AD MAIORA!