Publications & Reports
A collection of publications and reports we have been recently involved in recently. 
ENISA Threat Landscape 2022 (July 2021 to July 2022)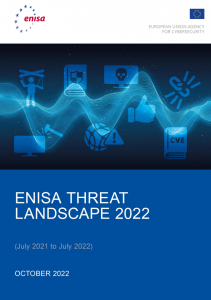 The tenth edition of the ENISA Threat Landscape (ETL) report on the status of the cybersecurity threat landscape. It identifies the top threats, major trends observed with respect to threats, threat actors and attack techniques, as well as impact and motivation analysis. It also describes relevant mitigation measures.
Are you interested in working on a specific report with us? Do you need analytical support or research for your publication?
Reach out to us, we are happy to collaborate!