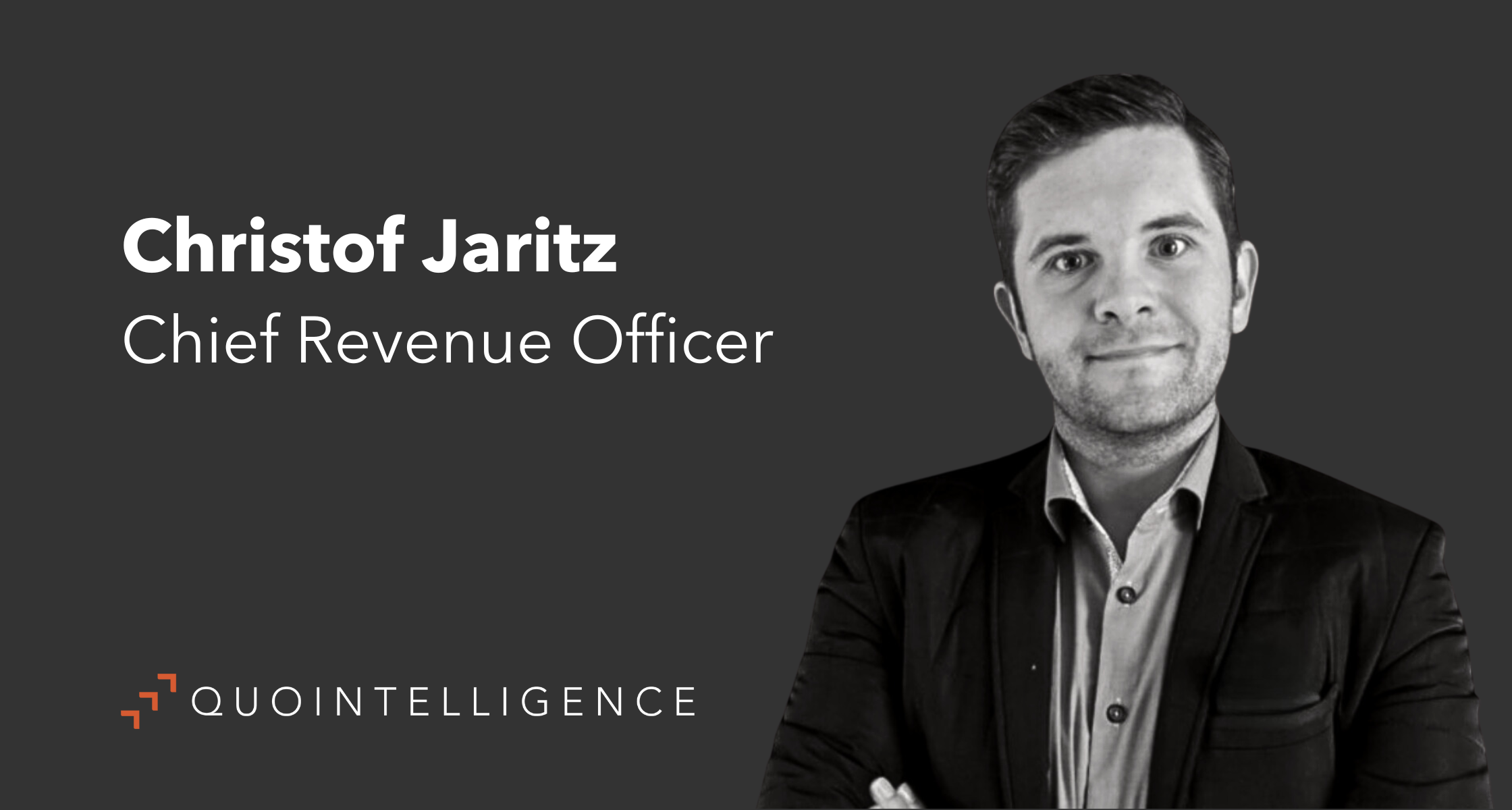 Frankfurt, Germany:  August 30 2023 — QuoIntelligence, the leading provider of threat intelligence in Europe, appoints Christof Jaritz as Chief Revenue Officer. In this newly created role, the seasoned marketing and growth leader, will oversee QuoIntelligence's expansion into new markets and industries with the company currently servicing customers across the Financial, Government, Manufacturing and Semiconductor industries among others. Christof will be working closely with the innovation and technology teams to ensure that services and products meet the customers' needs. 
Especially in the current geopolitical environment, threat intelligence — as the exercise of identifying potential risk factors and attack surfaces for companies of all sizes —  is becoming a more important factor with regulations such as ISO 27002 requiring organizations to ramp up their efforts in this area. QuoIntelligence provides an EU-specific lens and services its customers with finished intelligence to enable them to adjust their security posture to the requirements of an ever-changing landscape.  
Christof joins QuoIntelligence from Bitly where he served as VP Marketing and Growth. He ran the global marketing and growth efforts of the Customer Connections Platform which has seen an exponential growth to over $100 Million in annual recurring revenue under his leadership.
Prior to that he was VP Marketing and Sales at Egoditor that then became the world's biggest provider of marketing-focused QR codes before being acquired by Bitly. Before that, he served as Managing Director of EMEA Sales and Operations at Branch, a mobile marketing and deep linking platform now holding a valuation of over $4 Billion. Christof started his career at Google where he held various positions across multiple regions and teams. 
Marco Riccardi, CEO and founder of QuoIntelligence:
"Christof is a great addition to our leadership team. We provide best in class threat intelligence and he will make sure that our existing and new customers get tailor made products and services to ensure their security."
Christof Jaritz, CRO at QuoIntelligence: 
"I am happy to join a world class team and welcome this opportunity to help grow a tremendously valuable proposition into the leading player in Europe. I firmly believe that cybersecurity is becoming more and more important in our current geopolitical environment and successful organizations need to be prepared to face existing and future threats before they become a liability." 
About QuoIntelligence
We enable organizations to enjoy the highest levels of cybersecurity through the delivery of timely threat intelligence tailored precisely to their needs.
We provide services across three vital areas:
Our highly experienced team of intelligence experts combines with our bespoke AI systems to produce our unique service. In a world where cybersecurity is necessarily about scalable technology, we include the human touch that makes the difference.
For more information, please visit www.quointelligence.eu